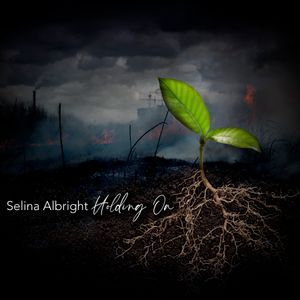 Contact: Rick Scott 310.306.0375
rick@greatscottpr.com
R&B-jazz singer-songwriter Selina Albright makes a powerful statement against social injustice
The multiformat radio single, "Holding On," drops October 16
DALLAS (22 September 2020): Like so many Black people, R&B-jazz singer-songwriter Selina Albright is tired and her fatigue has nothing to do with becoming a mother for the first time earlier this year, which was the subject of her latest single to hit the charts, "Discovering." No, Albright's exhaustion and discouragement stems from "seeing videos of my brothers and sisters dying in cold blood, their deaths rooted in misplaced fear, their murderers allowed to live freely." She cowrote and coproduced her forthcoming single, "Holding On," to call out social injustice and the urgent need for reform. The single drops October 16 and will be promoted at urban adult contemporary and smooth jazz radio formats.
Musically, "Holding On" is an anthemic, multi-genre aural quilt sewn from soulful R&B heart, modern jazz progressions and tones, dramatic rock changes punctuated by drummer James "JRob" Roberson, and ethereal pop vocal harmonies. But it's the song's subject matter and lyrical content that is radically new and different for Albright, who has etched her place on the urban-jazz scene with intimate love songs and autobiographical confessions such as those contained on her 2017 debut album, "Conversations." Her most piercing and provocative cry in "Holding On" is when she passionately repeats "Burn it all to the ground."                   
"I frankly find it exhausting and infuriating to see ongoing evidence of oppression without much change. And because writing music is a therapeutic outlet for me, I couldn't help putting pen to paper about my struggle to maintain hope for the freedom of my people - real freedom to pursue happiness, be our beautiful selves, and to live fully as is our inalienable right. Instead, our rights are seen as privileges by those who work to prevent the impending moment when Black people truly know our strength," said Albright who wrote the song with her coproducer Chris "Big Dog Davis, David P. Stevens and Kayta Matsuno.
Although "Holding On" is a song that captures present life for Black Americans, its origins date back to a November 2017 recording session between Albright and guitarist Stevens. Stevens awoke with the chord progression in his head and played it for Albright when she arrived in the studio.
"The lyrics were originally written to bring hope and consolation to people with emotional health disorders because at the time, suicides were hitting close to home. Something in my spirit told me not to release the song yet. Since then, the United States has been exposed around the world for its social injustice, the roots and workings of which are so well hidden and indulged by a small fraction of our nation, but whose disadvantages are felt by multitudes," said Albright, who plans to release an accompanying video for "Holding On."
As usual, Albright found a way to incorporate her own experiences into the lyrics. After having a series of discussions with friends about their similar experiences of being Black in America, she revisited the song's lyrics in order to make them more specific to Black people and the fight for social justice.
"I remember the first time my parents told me that because I'm Black, I'd have to work twice as hard as my non-Black peers to accomplish the same result. They also taught me how to dress and behave when certain people were present so that the police wouldn't be called, and I wouldn't die. Wouldn't die! They said my smile and 'proper' dialect would be my protection. I'm glad I was warned because the same has been true even in my adulthood. There's really nowhere to run from it," said Albright, the daughter of multi-time GRAMMY nominated saxophonist Gerald Albright.   
Ultimately, Albright would like to see her message in "Holding On" become obsolete, a dark and distant memory of the past before "we started over using our spirit of power, love and sound minds" to prevail over systematic racism.
"Black people are being herded around the country like cattle, our culture and excellence exploited, rather than kept sacred. We are being poisoned by processed scraps of food, and then given the lowest quality of healthcare. I see many of us losing steam. We can't afford to do that. We must continue to find the strength to keep holding on until the whole world knows that at the very least, we matter."
For more information, please visit https://selinaalbright.com.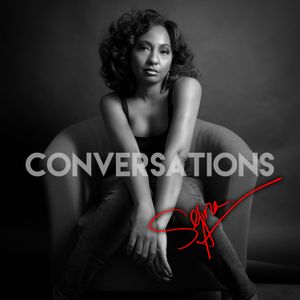 Contact: Rick Scott 310.306.0375
Selina Albright's successful "Conversations" makes Christmas Tour with Koz "Possible"
Multi-format radio play, favorable reviews and a busy concert calendar boost the R&B-jazz singer's debut album.
FRISCO (18 September 2017): It is mid-September yet R&B-jazz singer Selina Albright has already booked her holiday season travel plans thanks in part to a pair of buzzworthy singles at multiple radio formats along with enthusiastic reviews for her debut album, "Conversations," which was issued on the Golden Rays Music label. Albright was invited to embark upon a 24-city U.S. concert tour as the featured vocalist on the Dave Koz 20th Anniversary Christmas Tour during which the smooth soul singer will share the spotlight with the charismatic saxophonist and his fellow contemporary jazz luminaries David Benoit, Rick Braun and Peter White. The tour kicks off November 24 in Atlanta and wraps December 23 in Cerritos, California.   
Even before "Conversations" dropped, Albright, who co-produced three songs and wrote the album's candid and confessional lyrics that she describes as "like my own therapeutic diary," captured attention and charted at smooth jazz outlets globally with the lead single, "Eat Something," an empowering mid-tempo R&B ode to self-love that celebrates comfort and security in a romantic relationship by packing on a few pounds. The song, bolstered by slick guitar licks from Kay-Ta Matsuno, immediately connects with listeners – especially women – who called radio stations to request the cut that premiered nationally on SiriusXM Watercolors' Dave Koz Lounge. "Eat Something" has now crossed over to urban adult contemporary (UAC) radio - including at SiriusXM's UAC programming – and is gobbling up airplay.  
While the first single continues its chart ascent at UAC radio, smooth jazz programmers have embraced the follow-up, "Possible," another affirmation of self-acceptance. Albright explains, "I wrote 'Possible' with hope of finding that one person who would make me feel loved and accepted just as I am. Now that I'm married to that person, I've found that it's equally important - if not most important - to accept myself. That's when the light bulb truly came on for me! My heart and mind opened to new possibilities, and I was able to experience the freedom and fearlessness I was put on this earth to achieve. I believe we all have to peel our own layers of doubt away and be true to ourselves in order to live our lives to the fullest. This is why the (accompanying) music is minimal for much of the song. I needed the focus to be on the message so that listeners could celebrate - not suppress - their zest for life."
The daughter of multiple Grammy nominee and contemporary jazz sax titan Gerald Albright, Selina grew up in the company of her father's colleagues, but has relied on the power and grace of her vocal gifts to pave her own way. For more than a decade, she has toured and recorded with a wide array of notables in jazz, R&B and EDM. In recent years, she's been featured on Benoit's A Charlie Brown Christmas Tour and is fond of touring during the holiday season.
"I really love touring during Christmas because I see nothing but smiles from the stage. It's as if barriers can finally come down for the season, and we can all relax and focus on what's important: friends, family, love and music!" said the radiant and shapely Albright, who continues her Conversations Tour until the Christmas tour commences. "Dave Koz, Peter White, Rick Braun and David Benoit have been part of my adoptive musical family for years. So for me, the Koz Christmas Tour will be a special reunion when we can celebrate each other's talents while on stage together. This is one tour that I know the people will feel the joy and love in the music! And, of course, music aside, the food enthusiast in me cannot wait to enjoy the local cuisine in each city we visit."
"Conversations" was produced by Chris "Big Dog" Davis, James "JRob" Roberson and Albright, and contains performances by Gerald Albright, White, Matsuno, Randy Ellis and David P. Stevens. Below are excerpts from a sampling of album reviews:     
"One of the brightest new stars in that crossover galaxy somewhere between contemporary jazz and R&B." – Smooth Jazz Therapy
"Selina blossoms fully as a transcendently soulful, urban jazz/R&B singer-songwriter." – SmoothJazz.com
"Albright brings her brand of fiery, soul-reaching music right to where you live, keeping you riveted to her charm. This is her debut album, but those of us who've witnessed her live knew what to expect when she finally unleashed this beauty." – The Smooth Jazz Ride
"Albright channels her R&B side that shares her heart on both sleeves. Backed by production from James Roberson and Chris 'Big Dog' Davis, Albright's flexible pipes and songwriting unquestionably steals the spotlight." – The Urban Music Scene
"Selina delivers her own therapeutic diary, in a soft soul and sultry jazz setting."- Keys & Chords
"Selina pushes the envelope in R and B with a stylish nod to jazz with a really identifiable vocal sound." – The Hollywood Times
For more information, including a complete concert itinerary, please visit www.SelinaAlbright.com.
Therapeutic "Conversations": Smooth soul singer Selina Albright comfortable and confident enough to "Eat Something"
Empowering radio single about self-love and acceptance previews her March 17 debut album release.
FRISCO (30 January 2017): While a song about the joy of packing on a few pounds and a widening booty may seem contrary to the messages bombarding the popular music and media landscape, smooth soul singer Selina Albright's "Eat Something" is instantly resonating with fans and radio programmers, including SiriusXM Watercolors' Dave Koz Lounge, which will feature the song on the February 5 national broadcast. The mid-tempo adult R&B song bolstered by guitarist Kay-Ta Matsuno's crafty touch is the lead single from Albright's first full-length album, the very personal "Conversations," which will be released March 17 by Golden Rays Music with preorders beginning February 1 on iTunes.          
"Over the past few years, I've noticed that I've reprioritized my life and stopped putting so much emphasis on doing and being what's most acceptable to others, and instead focused more on appreciating and expressing who I've become. Getting to that place in my life inspired me to write about topics I normally wouldn't, such as 'Eat Something.' I know it's unconventional to write a song about being so happy that you gain weight from eating more, but there's a freedom in the candor of the lyrics. There was no way I was going to change that. It was far too special," said Albright, who selected the heartening cut as the first single based upon the immediate and rousing response she receives whenever performing the song in concert and from the fervent reaction from her "FanFamily" on social media.     
Describing the custom-tailored blend of sensual soul and sultry jazz album as "my own therapeutic diary through joy, betrayal, liberation and hope, all written without holding back," Albright wrote the lyrics for all nine original tunes and co-produced three tracks on "Conversations." Her subject matters are based upon intimate and probing conversations she's had, shared as if she's confiding in a close friend. Whether skillfully unleashing the full power and magnitude of her gravity-defying voice or harnessing her passion in a reassuring caress, Albright's demeanor remains sunny and glowing on uplifting numbers like "Possible" and "Highest High." Even when confronting weightier subjects head on like she does on "Wifey Anthem (You Don't Have To Fight At Home)" and "Victim," her inherent optimism remains present and undaunted. "Let Go" also is wrought with emotion and includes dramatic flute flourishes from multiple Grammy nominee Gerald Albright, Selina's father. The disc's lone cover is a stripped down, jazzy rendition of "If I Were A Boy" with accompaniment by contemporary jazz hit-maker Peter White on acoustic guitar and Randy Ellis (Stevie Wonder, Beyoncé) on sax. Also contributing to the date are producers Chris "Big Dog" Davis and James "JRob" Roberson as well as guitarist David P. Stevens.      
To help launch the album, Albright will perform at three record release parties: February 12 at Spaghettini in Seal Beach, California, April 6 at the Berks Jazz Fest in Reading, Pennsylvania and April 15 at The Soiled Dove Underground in Denver, Colorado. The Southern California show is already nearly sold-out.   
Born and raised in Los Angeles, California, Albright was reared in the jazz and R&B scene, making her first appearance singing on one of her father's albums twenty years ago. She has since sung on several of his collections, including penning lyrics and singing on the Grammy-nominated "24/7," a 2012 duet set from the chart-topping saxophonist and Grammy-winning guitarist Norman Brown. Oozing stage presence, exuberance and captivating charisma, Albright has made her own name while singing on records and on stages around the world, shining brightly amidst a galaxy of contemporary jazz stars and R&B legends that spans Brian Culbertson, David Benoit, Dave Koz, Kirk Whalum, David Sanborn, Boney James, Richard Elliot and Rick Braun to Chaka Khan, Will Downing, Regina Belle, The Temptations, Hugh Masakela and the late George Duke. In an entirely different setting, she injected her soul-powered energy into the electronic dance music world by collaborating with Manufactured Superstars, leading to a performance with the internationally-revered DJ duo at Las Vegas' Electric Daisy Carnival in 2011. Recording as a solo artist, Albright placed the spirited jazz original "You and I" on the iTunes Top 100 Singles Downloads in 2010. A few years later, she topped the soul chart in the United Kingdom for four weeks with her R&B/soul single "Brighter." Last year, Albright primed the marketplace for "Conversations" by issuing "Sun Comes Up," which outpaced her previous singles.                    
"Conversations" contains the following songs:
"Eat Something" (featuring Kay-Ta Matsuno)
"Possible"
"If I Were A Boy" (featuring Randy Ellis) 
"Talk To Her"
"Highest High"
"Wifey Anthem (You Don't Have To Fight At Home)" (featuring David P. Stevens)
"Search My Name"
"Victim"
"Let Go" (featuring Gerald Albright)
"Uncharted Love"
For more information, please visit www.SelinaAlbright.com.

Find it on iTunes and Amazon. For a signed physical CD, visit the Online Store.